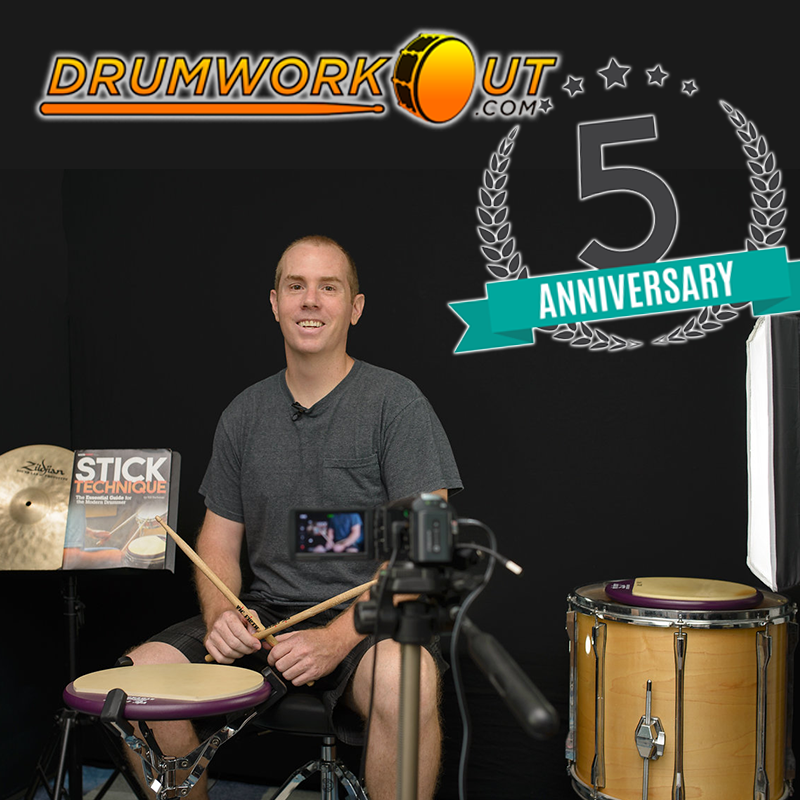 We are incredibly excited to have hit a huge milestone this April – 5 years of drumworkout.com goodness!
It's been one heck of a ride over the past 5 years and we have seen some huge improvements and developments on the website in this time. We have also heard some great stories from our users about the effects the site has had on their hands. We really couldn't be prouder and are incredibly appreciative of the support we have received in this time.
To help celebrate, we have a few great promotions we are running all through April:
3 Months for the Price of 2
Catchy promo name, right? Keep it simple, that's our motto.
For the whole month of April, new users will receive 3 months for the price of 2 on all new account activations. No catches, no hitches, just a straight up sweet deal.
To take advantage of this great offer, head along to the new user registration page to register for you new account here.
Offer ends April 30th, 2018.
Win a FREE Skype Lesson with Bill!
Yep – the catchy promo names continue…
To say a big "thanks" to all of the wonderful users who have supported drumworkout.com over the years, we are running a special competition to win a FREE skype lesson with Bill! You can check out all the details for this one in your User Dashboard and in your email.
Entries close 5pm April 11th CST, so don't delay – head on over to check out all the details and get your entry in ASAP!
_
So once again, a MASSIVE thank you from both Bill and Cam for your support of Drumworkout.com over the past 5 years. We are so proud of the wonderful feedback we continue to receive about the site and hope that it has proved to be an invaluable resource in helping take your playing to the next level.
Here's to another 5 years….!