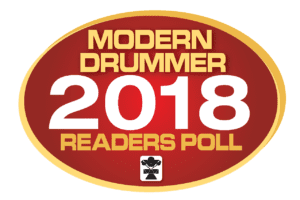 The whole team at Drumworkout.com are honored to see Bill nominated in the Modern Drummer Magazine Reader's Pool for 2018.
This is the second time Bill's work has been recognised by Modern Drummer since Drumworkout.com was established in 2013: in 2016, Bill was nominated for Educator/Clinician of the year in recognition of his wonderful approach to education and teaching.
Here what Bill had to say about this year's nomination:
"I'm quite honored that Rhythm & Chop Builders (my latest book) is nominated in Modern Drummer magazine's 2018 Reader's Poll.

If you feel it's worthy feel free to cast your vote! Here: https://www.moderndrummer.com/polling-form/ (All you need is an email address)

Happy Drumming!"
As always, thanks from the whole team at Drumworkout.com for your support over the years – we are so lucky to have such a wonderful community of musicians as part of this project!