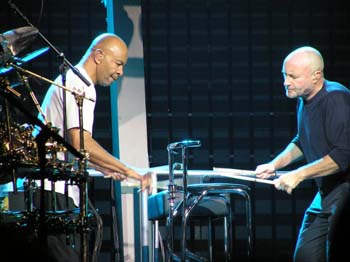 Lets face it – playing with friends is always more fun (Phil and Chester agree!), so keep spreading the word and reap the rewards.
We know that plenty of our users at DrumWorkout.com have been spreading the work about the site and helping get out name out there. Without guys/gals like you helping share the love, this site would still be in the dark ages, and we can't thank you enough!
With this in mind, we have put together a great 'Refer a Friend' program to say a small Thank You when you tell someone about DrumWorkout.com.
Basically, every time you refer 3 friends to DrumWorkout.com, you will get one month FREE! No limits, no catches, just free months! Refer three friends and get one month free, refer 30 friends and get 10 months free… we will never cap your referral limit.
All your friends need to do is put your name in the "How did you hear about us" section of the website registration form, and we will take it from there. Couldn't be easier.
As always, we want to hear your ideas and feedback for the site. DrumWorkout.com is about YOU and helping find ways to make you the best drummer you can be. If you have any thoughts, please Contact Us to let us know.
Terms and Conditions Apply
[fbcomments linklove="0″]