Well, it's been a huge year at Drumworkout.com! We have completely redesigned the website to make it faster, more user friendly, and easier on the eyes. We have grown our user base, welcoming more people into the Drumworkout.com family, and we have added a huge amount of great new content for you – our users.
That said, we never like to rest on our laurels and are always looking for the best ways to improve the site for you all. We are super excited to be able to bring you these great updates just in time for Christmas – check them all out below!
Workout Transcriptions
Recently, we have been getting feedback that you would prefer to have transcriptions for every workout on the site rather than learn them rote and memorize them as was originally intended. We heard, listened, and acted. So, as of right now, there are transcriptions on the site for every one of the 12 Gateway Rudiments, every one of the 44 Modern Rudiments, and the Chop Builders are just around the corner.
There are now 250 videos totalling nearly 62hrs of footage. Needless to say, transcribing the workouts for each of the was a HUGE job. Big thanks to our main man, Tony Holroyd for his work making this happen. Tony put in a massive amount of work and got the job done super fast for us. If you ever need any transaction work, definitely hit him up here: http://tonyholroyd.wix.com/drummer – he's legit!
New Chop Builders
Feeling the urge to challenge your counting? We've just added some great new chop builders based around Quintuplets. These are great little brain teasers to check how well you can count in a less common grouping and hold down the groove. Don't be scared of these bad boys… when you get them down you will increase your vocabulary massively!
New Lessons
Bill has been working on some great new lessons on a number of great topics including: Warming Up and Injuries; Connectivity of Strokes; Downstroke Stiffness; and heaps more. Keep your eyes peeled for these coming out of the next few days.
Merry Christmas!
We hope you enjoy exploring these great little improvements and additions to the site over your Christmas break and get lots of time to dial in those chops! As always, we want to know what we can do to keep improving the site for you, so if you have any feedback or ideas, please do not hesitate to pass them on to Cam and we'll get right on it.
With all that in mind, thank you again for being a member of Drumworkout.com and for your support of this project. We hope you love it as much as we love hearing about everyone's improvement and enjoyment of the site. Have a very happy and safe holiday, a Merry Christmas, and see you next year!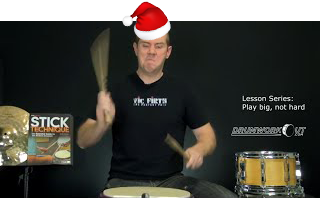 [fbcomments linklove="0″]